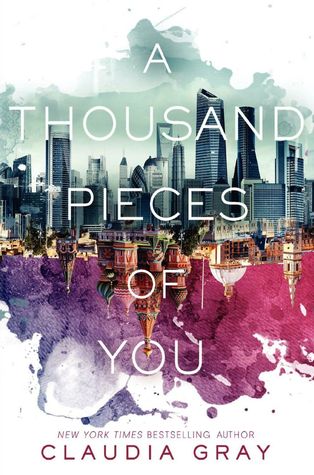 Hello everybody! I know it's been quite a long time since I last posted anything. Being a college student is hard! As you may know if you follow me on Twitter, I have a few reviews to write, so I'll start posting them whenever I get the chance.
As for this one, it is about A Thousand Pieces of You, by Claudia Gray. It is a young adult, science-fiction (some even say fantasy, though I wouldn't quite agree) novel - the first part of the Firebird Series.
"

Cloud Atlas

meets

Orphan Black

in this epic dimension-bending trilogy by

New York Times

bestselling author Claudia Gray about a girl who must chase her father's killer through multiple dimensions.




Marguerite Caine's physicist parents are known for their groundbreaking achievements. Their most astonishing invention, called the Firebird, allows users to jump into multiple universes—and promises to revolutionize science forever. But then Marguerite's father is murdered, and the killer—her parent's handsome, enigmatic assistant Paul— escapes into another dimension before the law can touch him.




Marguerite refuses to let the man who destroyed her family go free. So she races after Paul through different universes, always leaping into another version of herself. But she also meets alternate versions of the people she knows—including Paul, whose life entangles with hers in increasingly familiar ways. Before long she begins to question Paul's guilt—as well as her own heart. And soon she discovers the truth behind her father's death is far more sinister than she expected.


A Thousand Pieces of You

explores an amazingly intricate multi-universe where fate is unavoidable, the truth elusive, and love the greatest mystery of all.

"

(Goodreads)
I really enjoyed this novel! Even though it might seem at first like a time travel story, it is not - it is about interdimensional travelling, which quite surprised me at first. It is the first book I've ever read about this topic (I'm sure you'd yell a me with the title of an obvious book on the topic which I have not read :P let me know if you know of another one).
Firstly, may I say the author has done a fantastic job in creating the different dimensions. It feels like she's made the perfect dimensions for the story to take place in -there hasn't been any time when I have thought there was a plot error, that she had forgotten anything. Because you have to think about the fact that she didn't have to create a whole new world, but quite a few of them. I think she's done it great :)
The language is correct and easy to follow, and t
he characters are interesting and full of life. You get to know them as the story develops. The main character, Marguerite, is strong and well-developed. The only thing I didn't quite like about her is that she doesn't really think about the consequences of what she does. It feels like all she cares about is herself at that very moment. And it is a bit incoherent the fact that the author tries to make her look like a good girl, with her painting and her homeschooling, and then she does things that don't really match with the idea you have got of Marguerite. I think that is a small flaw of the book.
Overall, I really liked the book.
I gave it
4 out of 5 stars
on
Goodreads
.
I think it is an original story in which an interesting topic is discussed. Science is mixed with romance and adventure. It definitely made me think about the possibility of existence
of destiny and different dimensions - a topic which I've always found very interesting. I surely will be reading the next book of the series.
Also, just take a moment to appreciate the magnificent cover of the printed edition. Simply, art.
Happy reading!
If you liked this book, you might also like...