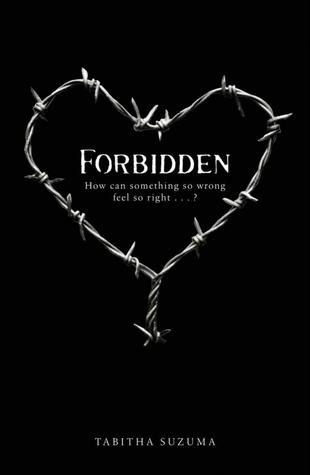 Forbidden by British author Tabitha Suzuma is a young adult, contemporary novel about two siblings who fall in love. I directly tell you it is an outstanding read.
"

She is pretty and talented - sweet sixteen and never been kissed. He is seventeen; gorgeous and on the brink of a bright future. And now they have fallen in love. But... they are brother and sister

.

"

(modified from Goodreads)
I first read this book a couple of years back. I recently saw it in my e-book reader and I couldn't help but re-reading it. How much I love this book I cannot explain.
The topic it is about
-
incest-
ca
n be quite scary. Even the word does not sound very nice.
The two protagonists do not live an easy life - they have three young siblings to take care of because their dad left them for another woman and their mum doesn't do what can be expected from a mother. They kind of have to be their siblings' parents, so they end up falling in love with each other. The story itself is a hard one - you get to see the struggles Lochan and Maya have to go through every day for everything to work out more or less. You will suffer along with them.
These main characters are super well developed, you get to feel their emotions and almost guess how they are going to react - though not in a predictable way, more in an "I know this character" kind of way. About the writing, it can be seen that is has been worked on
- it is not the usual
simple
YA writing.
I love this novel so much I gave is 5 out of 5 stars on Goodreads, and with that it goes to the 5-star readings section you can find on the top part :) Believe me, this book will leave you devastated.
About the ending, some people may like it, some may hate it. I can say I would have liked the story to go some other way, but I can understand why the author did what she did. Just read it. I can assure you it is worth it.
Happy reading!
If you liked this book, you might also like...