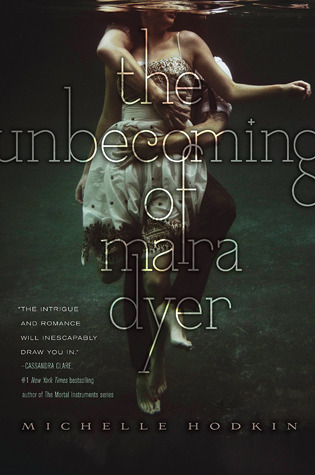 The Unbecoming of Mara Dyer by Michelle Hodkin is one of those books I look forward to rereading every time. I have done so 3 times already, and I love it every single time. It is a Young Adult, kind of fantasy, kind of mystery novel about love, friendship and mental health (which I personally find fascinating). It's the first novel to the Mara Dyer Series.
"

Mara Dyer believes life can't get any stranger than waking up in a hospital with no memory of how she got there.



It can.



She believes there must be more to the accident she can't remember that killed her friends and left her strangely unharmed.



There is.



She doesn't believe that after everything she's been through, she can fall in love.



She's wrong.

"

(Goodreads)
That synopsis is all I read before diving right into the story, and it worked just fine for me! Appealing -isn't it? ;)
I really love this book - starting with its cover, which is beautiful. I find it to be a complete page-turner!
The characters are well developed and so lovable. Noah is one of my favourite male characters ever <3 He is just so lovely and handsome, and he honestly has everything you can ever ask for in a guy. He is protective but kind, he is self-confident, he doesn't care what other people may think. He is determined to be himself -or to find out who that is, which I love. And Mara is a common girl from the world who has gone through some terrible stuff in her life and is just trying to move on. She is not one of the cool kids in her new school, and finds it hard to trust people, and is not that self-confident -but she's likable just as much. It is the combination of both of them which is perfect!
The story is very interesting and original. You're not completely sure of what is happening all the time -very weird things keep happening in the story of which you are eager to understand. I think Michelle Hodkin does it extremely well - she lets you know exactly what's necessary, and she uses the precise language for it. So very nice. I'm a total fan!
I've been wanting to read the next books in the series ever since I first got this one, but for some reason I am never able to... I read the book every year in hopes I find a way to get the rest, but I'm awful at it :( I hope I can do it soon!
I highly, highly recommend this book. In fact, I'm giving it a high 4.5 out of 5 stars. Please, just read it. And if for a moment you think it's just another YA novel, just keep reading. You'll understand.
Let me know what you thought of The Unbecoming of Mara Dyer!
Happy reading!
If you liked this book, you might also like...